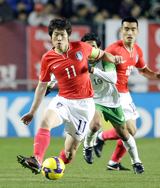 Just in case North Korea wasn't in the news enough for its recent capture of two American journalists and its new threat of a missile launch, the country has just sent its soccer team to Seoul to take on South Korea in a qualifying match for the 2010 World Cup.
After nearly a half hour of play the score remains tied at 0-0.
AFP reports: "The North, who last made the World Cup finals in 1966, have 10 points from five games and lead the group after a gritty 2-0 home win over the United Arab Emirates (UAE) at home on Saturday."
That means if the DPRK wins, then they will go on to play in South Africa next summer.That'll be flippin' interesting.
The last time North Korea qualified was in 1966, when it surprisingly made the quarterfinals. This story was described in the 2002 UK film "The Game of Their Lives."
A UK vendor also is selling DPRK jerseys for about 30 pounds. Wacky.
Um, Korea Fighting?
Update: South Korea pulled it out: 1-0.